2023 Annual Meeting
Capital Electric Cooperative held its 77th annual meeting at the Bismarck Event Center on June 20.
This year, three directors were elected for three-year terms. Dave Charles (District 1), Bret Weiland (District 2) and Kyle Tschosik (District 3). There were more than 1,600 votes in the election, most of which were online or by mail.
The elected board member are pictured here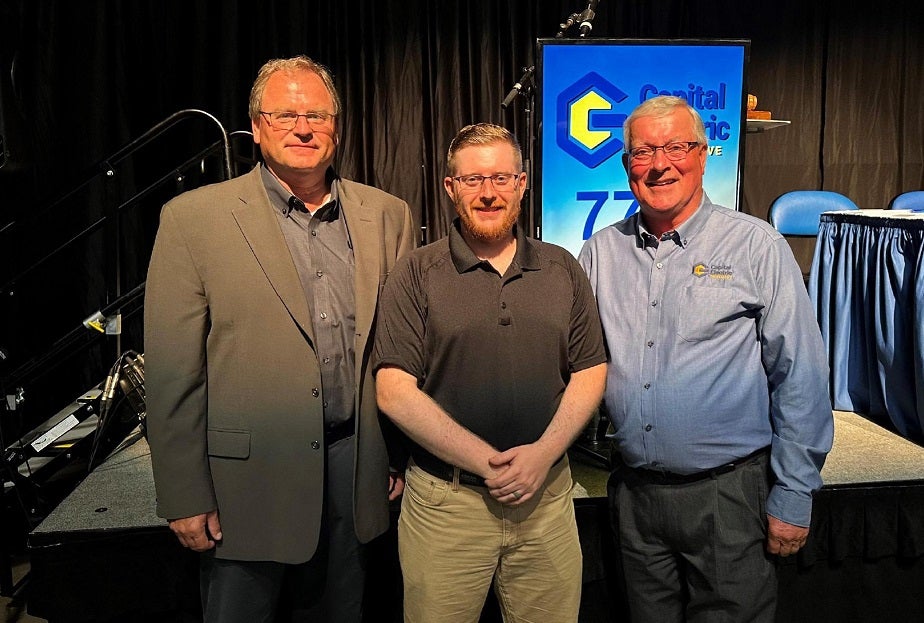 The board of directors also proposed amendments to the cooperative's bylaws. These amendments were approved by the membership by a majority vote. You can find out more information on these changes at https://www.capitalelec.com/proposed-bylaw-changes.
The annual meeting was attended by approximately 600 co-op members. Members were treated to a nice meal, incredible entertainment by country singer, Savanah Benz, and kids inflatables and toys. There were information booths including one to explain the 2023 rate shift. One additional booth this year was to highlight a local high school robotics team called Roboticus Maximus. The group demonstrated the robot they created for competition.
One addition to this year's meeting was the use of golf carts to shuttle members in from the parking lot. Due to the very warm weather this was well-received.
During the business meeting the members heard updates from Board President Deon Vilhauer, General Manager Paul Fitterer, as well as the remaining department managers. There was a report by Business Manager Luke Steen regarding the 2022 financial results, as well as details on the rate changes. A $500 scholarship was randomly drawn and rewarded to singer and college student Savanah Benz.
Sister Kathleen Atkinson delivered the invocation. Sister Kathleen is involved with providing services to recently released prison inmates from the Ministry on the Margins organization. Door prizes were a hit as usual during the meeting.